---
Club History
---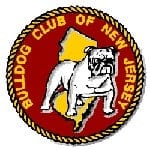 The Bulldog Club of New Jersey was founded in 1936.
Its stated purpose was first printed in 1938 as follows: To stimulate wide interest in bulldogs as pets and as show specimens; To study the breed with the aim of producing specimens as close to the bulldog Standard as possible; and To work for better judging at our specialty shows. These purposes continue to remain standing objectives.
Club members welcome visitors to their club's monthly meetings and to their private kennels.
The Officers were Norman Brown, president; H. J. McCruden, vice president; W. F. Washburn, Jr., secretary; and A. Bayne, treasurer. They directed the new specialty club during its infancy. The founding member's list is still retained by the club historian, Peggy Gorbe.
The club was founded by a large group of bulldog enthusiasts from the northern section of New Jersey, who did not want to travel to club meetings of the Bulldog Club of Philadelphia. The membership list once numbered as many 177 members.
BCNJ hosted a specialty show from April 1939 (except for 1943 and 1945), until the present. World War II kept the group from fulfilling its goals and objectives during the early years.
The first specialty show was judged by Mr. Harry Rawes in April 1939. His best of breed selection was Ch. Berton's Jack Tar owned by Mrs. C.L. Norton. It was held in conjunction with The Ramapo Kennel Club. The club also hosts puppy matches and a futurity.
BCNJ's list of past and present members includes the last names (and kennels) of breeders and owners like Arnold (Bounty), Averill (Bo'sun), Bernfield (Rawburn), Deutsch (Bonafide), Eisenberger (Spanktown), Hetherington (Hetherbull), Horne (Hobbyhorne), Howd (Willow Oaks), Hubbard (Brookhollow), Hugo (Hug-o-bull), Prager (Resolute), and Wilson (Bettebus).
Most of the members, past and present, are noted in the club's 50th anniversary booklet (assembled by Ann Howd, BCNJ historian) and 75th anniversary booklet (assembled by Peggy Gorbe, BCNJ Historian and Julian Prager, BCNJ President) and presented to the membership in 1986 and 2011. These booklets contain many letters and articles written by the members, bylaws, past specialty winners, photos and much more.
Among those listed as past presidents are: Norman Brown,1936-1937 and 1940;  Frank Carolin, 1940-1942; Steve Averaill, 1946 and 1951; Cyril Bernfield, 1958-1960; Ernest Hubbard, 1961-1963 and 1996-1997; Sheila Schneider, 1965-1967: Betty Rae, 1967-1968; Elenore Hendolwich, 1968-1970; Steve Averill III, 1970-1972; Lee Silva, 1972-1973; Phillip Schneider, 1975-1977; Betty Wilson 1978-1980; Roberta Arnold, 1980-1982; Ann Howd, 1982-1984; Edward Eisenberger, 1984-1985; Robert Howd, jr. 1985-1987 and 1993-1995; Bonnie Eisenberger 1989-1991; Julian Prager 1991-1993, 2001-2003 and 2010-2012, and Dorothy Prager 1999-2001.