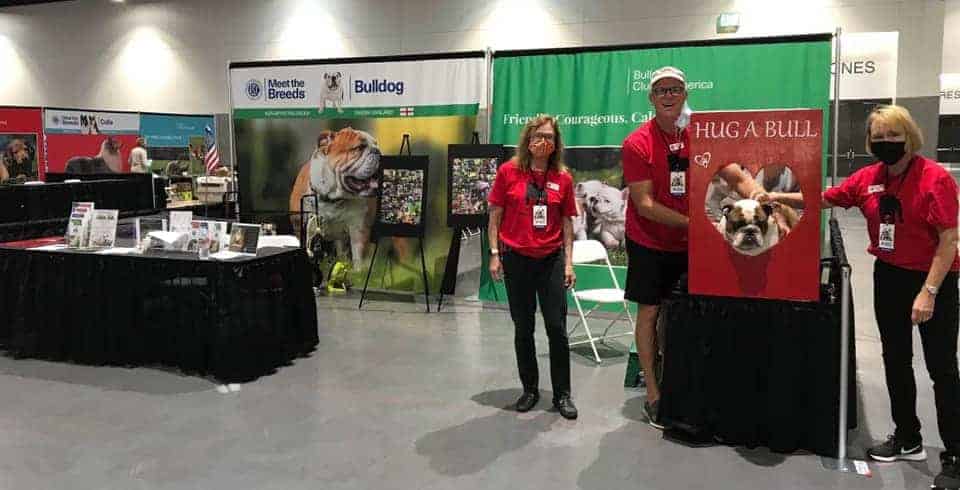 2021 AKC Meet the Breeds Tour at San Diego Convention Center. Bulldog Club of Greater San Diego membership made it memorable with the Hug a Bulldog booth and an assortment of informative handouts.
Bulldogs today are known for being excellent family companions. They are bred to have a kind equable disposition with a pacific and dignified demeanor. They are not good watch dogs although their looks alone tend to deter any potential intruder.
In addition to your locally sponsored Meet the Breed Events, AKC Meet the Breeds® is going nationwide in 2021, giving dog lovers a unique opportunity to meet, play with, and learn about more than 100 dog breeds (and cats, too)! All cities and dates tentative and subject to change.
Information to use at your Meet the Breeds Event
Click each category to learn more.
To find Handouts & Flyers for a BCA Meet the Breed Event  Click Here
Red Flag Breeders  (NO LINK YET)
Click each category to learn more.
To find Handouts & Flyers for a BCA Meet the Breed Event  Click Here
Click each category to learn more.
To find Handouts & Flyers for a BCA Meet the Breed Event  Click Here
Click each category to learn more.
To find Handouts & Flyers for a BCA Meet the Breed Event  Click Here