Junior Handlers - The Future of the Breed
Our children not only preserve the sport, they learn about the breed and become the preservation breeders of the future.  The Kids Zone will show you how!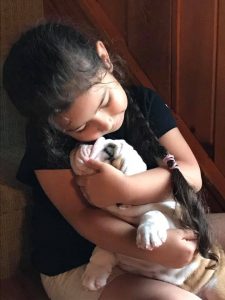 Does your child have a love for Bulldogs?

Do you to want to empower him or her with life-long skills about being responsible and a good sport – whether winning or losing?

Put your child on the path of Junior Showmanship (also called "Junior Handling"), a sport for young people where they show off their dog handling skills.

Children 9 to 18 years old learn basic handling abilities, and how to care for, and present their dogs in a competition.

Think of Junior Showmanship as a training ground for a life-long journey in dog shows and sports.
Participating in Junior Showmanship will teach your child many important life lessons.
How to put one's mind to something and master it

How training can lead to a very special bond with a dog.
We can help you put your child on the road to the Kids Zone!