Bulldog Judging Seminars
Judges Education Webinar: Bulldog
Wed, May 13, 2020 10:00 AM - 11:30 AM PDT
Elizabeth Hugo Milam of the Bulldog Club of America hosted a Judges Education Webinar.
Available to watch for those interested in learning more about Bulldogs and judging Bulldogs.
Register and view at AKC:
Attention: Aspiring Breed Judges of the Bulldog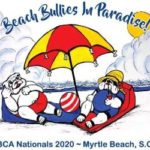 We would like to welcome you to join us for Judges Education at our National Specialty to be held in Myrtle Beach, SC commencing November 22, 2020.  Ringside mentoring information pending.  Judges Education Seminar - Location TBD.   You may contact Elizabeth Milam for more information:  (405) 620-3250 or Email.
The 2020 Bulldog Club of America National Show week long festivities begins November 22, 2020 and ends November 28, 2020.