Bulldog Club of America
8 September 2022
Dear BCA Membership
This past year has been a series of challenges on the international health front for Bulldog and brachycephalic breeds. Between the Norwegian Bulldog Breeding ban and a recent push by the Canadian Kennel Club Health committee to act in the European manner with more restrictions on the brachycephalic breeds, we must be aware of the pressures coming from many directions.
The Bulldog Club of America has a very strong health program and we have built upon it year after year and should be very proud of it. In the next year we will see OFA begin to use BOAS as a method to test the Brachy breeds and BCA members need to be on the forefront of this testing.
BOAS testing has been successful in the UK, and we need to embrace it. Elizabeth Milam wrote an article on this test in the Bulldogger, Issue 173 on page 122. The BCA will host a ZOOM seminar on Wednesday October 5th at 8 PM EST Eastern 5 PM PST. We will discuss this test, what we can do as members to prepare for it and provide an opportunity to ask questions and answered. Please review the attached RFGS Overview prepared by OFA. We are asking you to send questions you would like addressed to jeff_ryman@hotmail.com I will compile them se we can best create an informative hour of discussion.
For the reason of security, the ZOOM link for this meeting, will be located on the BCA website in the membership area. Please touch base with Sherry Webb if you need to update your password for access. This letter has been sent to the full membership, via the Division Secretaries and we will place reminders on social media and guidance on how to access the link, your when you first open the BCA website. Please join us, in what I hope will become a reoccurring event. We will look into other important subjects and try to have seminars for members and prospective members. If you have any suggested topics or speakers, please let me know.
Best Regards
Jeff
Jeff Ryman
BCA President
rotor8@aol.com
425-876-2213
Respiratory Function Grading Scheme Overview
Recent years have seen a significant rise in the popularity of Bulldogs, French Bulldogs and Pugs. Unfortunately all three breeds are subject to Brachycephalic Obstructive Airway Syndrome (BOAS), a condition which may cause breathing difficulties. BOAS is caused when the soft tissue in the nose and throat are excessive for the airway, partially obstructing the airway and making it difficult for them breath normally. BOAS is a progressive disorder and can impair a dog's ability to exercise, play, eat and even sleep. Along with conformational issues, indiscriminate breeding practices resulting from increased demand for puppies has only exacerbated the problem. Clinical signs of BOAS are variable and can include noisy breathing, exercise and heat intolerance, regurgitation and difficulty swallowing. And sadly for pet health, many owners are unaware of the disease, and often interpret breathing noises or difficulties as simply normal for the breed.
In an effort to learn more about the condition, increase awareness, and ultimately reduce the incidence of BOAS, researchers at the University of Cambridge in the UK developed the Respiratory Function Grading Scheme (RFGS). The goal of the RFGS was to develop an objective test to measure the clinical diagnosis and severity of BOAS.
The exam is conducted by a specially trained and approved veterinarian and consists of 4 steps:
A short health survey regarding the dog's breathing history
A brief physical exam while the dog is calm including auscultation where the assessor listens to the dog's breathing with a stethoscope gently positioned on the side of the This establishes a baseline for the absence of or severity of any clinic signs of BOAS.
A brief exercise test consisting of a brisk three minute This is designed expose clinical signs of the disease in an otherwise calm and asymptomatic dog. It is not designed to assess cardiovascular fitness.
A post exercise auscultation after increased airway activity to compare to the pre-exercise
The noises the trained veterinary assessors are listening for during auscultation include:
Stertor – a low pitched vibrational noise heard above the level of the larynx
Stridor – higher pitched 'sawing' noise heard over the larynx
Nasal stertor – low pitched nasal snort/vibration
Nasal stridor – higher pitched nasal whistle, usually on breathing in
The Respiratory Function Grading Scheme assigns a sliding scale of 0 to 3 to objectively diagnosis BOAS:
Grade 0 – the dog is clinically unaffected and free of any respiratory signs of BOAS (no evidence of disease, no BOAS related noise heard even with a stethoscope)
Grade I – the dog is clinically unaffected but does have mild respiratory signs linked to BOAS (noise is mild and only audible with a stethoscope)
Grade II – the dog is clinically affected and has moderate respiratory signs of BOAS (noise is audible even without a stethoscope)
Grade III – the dog is clinically affected and has severe respiratory signs of BOAS (noise is audible even without a stethoscope)
*** NOTE – If a dog exhibits respiratory difficulty, cyanosis or dyspnea, it is not necessary or advisable to conduct the exercise test as these dogs are already in the Grade III range.
Both Grade 0 and Grade I are considered to be clinically BOAS unaffected as they exercise without difficulty and do not appear to have any clinical signs related to airway obstruction. In Grades II and III, when stertor or stridor noise is heard without a stethoscope, whether intermittent or continuous, these dogs are considered clinically affected with clinical signs affecting quality of life.
Using the RFGS grades and the guidelines in the chart below, concerned responsible breeders can apply the selective genetic pressure to reduce the chances of producing puppies affected by BOAS. However, since the inheritance of BOAS is not fully understood and is not entirely predictable, this guidance cannot guarantee that all puppies from unaffected parents will be free of BOAS.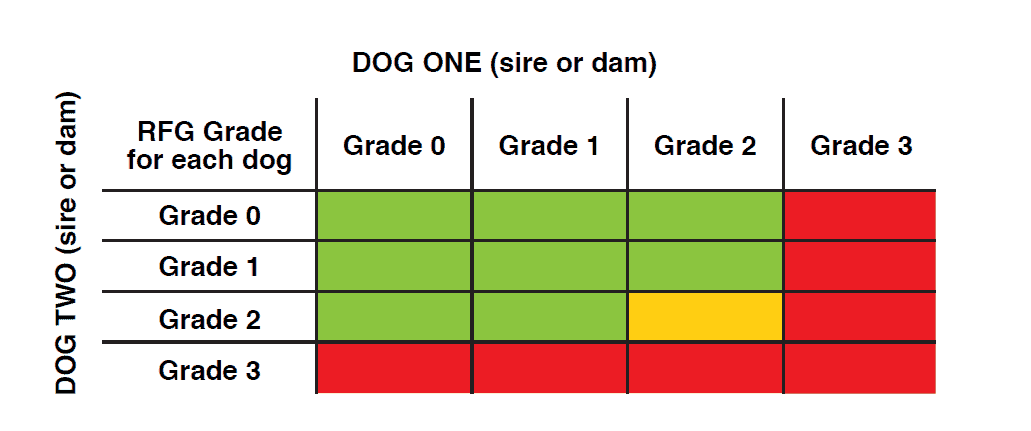 Green — these mating combinations have the lowest risk of producing puppies affected by BOAS
Yellow - a Grade II to Grade II mating will increase the risk of producing puppies affected by BOAS
Red — these mating combinations have a high risk of producing puppies affected by BOAS and are not recommended
With encouragement form the Bulldog Club of America, the French Bulldog Club of America, and the Pug Dog Club of America, the OFA is joining this international effort and licensing the RFGS for implementation here in the US. To achieve success, the program will require participation from multiple stakeholders. The OFA is organizing the effort, will establish the database for exam results and the resulting certifications for dogs in the normal range, and will forward the results to The Kennel Club in the UK for inclusion in the international statistics. Veterinarians with a specialized interest in the brachycephalic breeds and respiratory health will undergo training and approval as RFGS assessors. Breed clubs will organize and sponsor screening events to make the program available regionally. And responsible breeders can screen their breeding stock and include the results in their selection criteria.
The RFGS is currently in a pilot phase here in US. Pending successful beta testing, systems development and assessor training, a full program roll out is anticipated in late 2022 or early 2023. Additional information, as it becomes available, will be released through the OFA media channels as well as the Parent Clubs.
Orthopedic Foundation for Animals
2300 E Nifong Blvd, Columbia, MO 65201 • Phone (573) 442-0418 • Fax: (573) 875-5073
www.ofa.org • Email: ofa@offa.org
A Not-for-Profit Organization