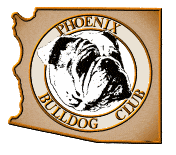 ---
Club History
---
From 1947 through 1973 were formative years for Arizona bulldog owners. It wasn't until 1972 that the Phoenix Bulldog Club (PBC) was established as a member club of Bulldog Club of America (BCA).The Arizona club had gone through at least six call names. The first was once known as Thunderbird Bulldog Breeders Association, which consisted of no more than 18 members who merged with the Arizona Bulldog Club. The combined club's largest membership, an unsteady 32 members in 1949, began sliding downhill during the 1950s.
"The Bulldog" magazine, a short-lived publication for bulldog owners of that era, contained an Arizona column which stated that in 1950 the Arizona Bulldog Club had been accepted as a BCA member. However, BCA Division III minutes recorded that the club had requested and received BCA Division III membership in 1964.
By 1966 the club was no longer in good standing with the BCA, and at the end of that year a Cactus State Bulldog Club sent its dues to Bulldog Club of America Division III. It was then that BCA Division III asked the AKC if there could be two Bulldog clubs in the same city. But in1968 Arizona Bulldog Club folded in deference to what was to become the Cactus Bulldog Club of Greater Phoenix.
In 1971, a club called Phoenix Bulldog Fanciers appeared. Finally, in 1972 the Bulldog Club of Greater Phoenix and the Cactus State Bulldog Club apparently merged into what is now known as the Phoenix Bulldog Club, and an AKC-sanctioned "B" Match was planned for 1973.
In 1976, the Phoenix Bulldog Club was selected by BCA Division III to host its specialty show, and the Arizona club of today was properly launched.
The PBC's late winter specialty entry has traditionally been aided by some large all-breed shows, and the "Phoenix Weekend" provides welcome winter relief for bulldoggers from neighboring states. More than half of the Phoenix specialty entries are estimated to be from out of state.
Phoenix Bulldog Club was incorporated as a non-profit organization on December 29, 1990.
History compiled by Barbara Thackery